How to recover deleted videos from android internal memory?
How to recover deleted videos from android internal memory?
How to recover deleted videos from android internal memory?
Aidfile Android recovery software ,recover deleted/formatted/lost videos from Android Internal sd card
If your smartphone run android version 4.0 or later , maybe will not be able to retrieve data in four nomal ways ("undelete","recover partition","unformat", "Full scan" ), maybe the Internal sd card can not be recognized as usb mass storage device by PC.Now you can use "android recovery" .
For Android version, first requires to perform ROOT on your phone, there are many data recovery software come with ROOT function, but we want to remind you the phone ROOT is a veryserious procedures that also very likelyto fail, which would cause phone unable to use. Therefore, the normal data recovery software comes ROOT function does not make your phone ROOT successfully, and there may be a danger as well. Therefore, we recommend that your phone ROOT,can refer tothe online professionalforums for your type of phone,carefully ROOT; then using Aidfile Android version to restore the data. Here I would like to remind our readers, for data recovery, it is recommended that the hardware should not repaired by computer maintenance company at the first time, because the main problem in general hardware maintenancecompany is, they preferredhardware detection at first, and this may cause you secondary damage to data storage devices, greatly reducing the recover choices, or even impossible to restore; but use software to recover the data on your own has 0 risk, and it will not destroy data twice. And with cheaper price, the key point is, it's simple to use.
Supports almost all mobile android smartphone brands, in addition to the iphone.For example,Samsung Galaxy Note 4,Note 3 ,Samsung Galaxy Note 2 ,Galaxy S6,S5,Samsung Galaxy S4, Samsung Galaxy S3,HTC one,Motorola moto X,Motorola XT928,XT685,Nokia 925,Nokia 1020 ,920,820,....and so on
Support recover video,audio by file types:avi, acm, mp3, rm, rmvb, rmi, swf, wav, wmv, wma, asf, mp4, mov, 3gp. 3g2, 3g2p, 3gg,mts,m2ts,etc
Carrier:Unlocked,AT&T,Sprint,T-Mobile,Verizon.....
Acer Liquid,Alcatel's OneTouch,Alcatel Authority,BlackBerry Classic,BlackBerry Passport,BlackBerry Curve,Blu Tango,Blu Life Play,BLU Studio,Casio G'zOne,HP Veer,HP iPaq,HTC Desire,HTC One M10,HTC One Remix,HTC One E8,HTC One Mini,Desire 626 ,One E8,HTC Desire 826,HTC One SV,HTC Butterfly S,HTC Windows Phone 8X,HTC One Max,Desire 601,HTC Droid DNA,HTC One VX,HTC Evo,HTC One X,Huawei Ascend Y550,Huawei Honor 8,Huawei Ascend Mate 9,Huawei Ascend P9,Huawei Ascend Mate 2,Huawei Honor 3X,Huawei Pal,Huawei P10,Huawei P9,Huawei Valiant,Huawei Vitria,Huawei Premia,Huawei Mercury,Huawei Ascend II,Huawei Pinnacle,Huawei's Ascend P1,Huawei Activa,Huawei's T-Mobile MyTouch,T-Mobile MyTouch Q,Huawei Verge,Huawei Ascend Y,Huawei Ascend D1 Quad XL,Huawei Ideos X5,Kyocera DuraForce,Kyocera Hydro Life,Kyocera Brigadier,Kyocera Contact,Kyocera Hydro Vibe,yocera Verve,Kyocera Hydro Plus,Kyocera's Elite,Kyocera Hydro,Kyocera Milano,Kyocera DuraMax,Kyocera Brio,Kyocera DuraCore,DuraPlus,DuraXT,Torque,Kyocera Event,Kyocera Kona,Kyocera Echo,Kyocera Domino,Kyocera Rio,Sanyo Taho,Kyocera Laylo,Lenovo S930,LG G4,LG's Tribute,LG G5,LG Realm,LG Unify,LG Wine, LG G Vista,LG Optimus L70,LG Expression 2,LG Exalt,LG G Pro 2,Optimus F3Q,Motorola Droid Turbo,Motorola Moto X,Motorola Moto G5,Motorola Moto E4,Motorola Droid Max,Moto X,Motorola Droid Razr Maxx,Motorola Admiral,Motorola Atrix,Motorola Photon,Motorola Electrify, Motorola Droid Razr,Motorola Defy XT,Motorola Electrify M,Palm ,Pantech,Pharos Traveler,Samsung Galaxy Note 4,Galaxy Note Edge, Samsung's Galaxy Avant,Galaxy Alpha,Samsung Galaxy S5,amsung Galaxy K Zoom,Samsung Galaxy S7,Samsung Galaxy S6, Samsung Galaxy Light,Samsung Gravity Q,Samsung Ativ S Neo,Samsung's Galaxy Mega 6.3,Samsung Galaxy Admire 2,Samsung Galaxy Discover,Samsung's Galaxy Note 3,Samsung Galaxy Ring,Samsung Freeform 5,Samsung Galaxy Amp,Samsung Galaxy Admire,Samsung Ativ Odyssey,Samsung Galaxy Stratosphere,Samsung Entro,Samsung Galaxy Stellar,Samsung Galaxy S Relay,Samsung Galaxy S II,Samsung Galaxy Rush,Samsung Galaxy Reverb,Samsung's Rugby ,Samsung Array,Samsung Galaxy Axiom,Samsung Galaxy Victory,Samsung Galaxy S Lightray,Samsung Intensity,Samsung Galaxy S4,Samsung Galaxy Beam,Samsung Galaxy Exhilarate,Sanyo,Sony Xperia Z4,Xperia T3,Sony Xperia M2,Sony Xperia Z2,Sony Xperia Z5,Sony Z Ultra,Sony Xperia Z Ultra,Sony Ericsson Vivaz,Sony Ericsson Xperia,ZTE Grand X,Asus PadFone,FonePad,ZenFone,Xiaomi's Mi 4,Xiaomi Redmi Note,Xiaomi Mi 5,Xiaomi's Redmi, Sharp Aquos Crystal,Sharp FX ,Meizu MX6....
How to recover videos from android phone internal memory?
1,Prepare works
Connect Android to Computer and Enable USB Debugging
You need to have root access on your phone (How do you make your phone rooted? Please use google search the methods for your android smartphone)
For example to make samsung galaxy note 2 rooted.
Search from google with the keywords "Root and Remove KNOX for Samsung Galaxy Note 2"
2,Run Aidfile android recovery software and select click "Android recovery"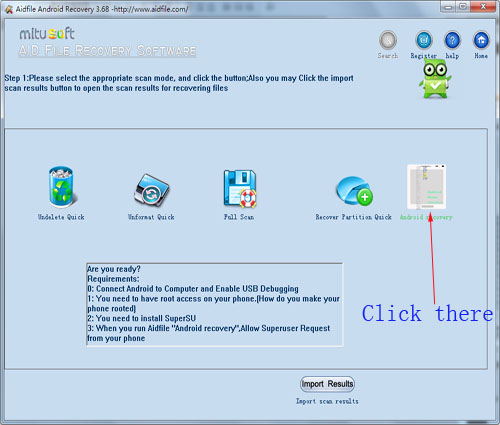 3,When you run Aidfile "Android recovery",Allow Superuser Request from your phone.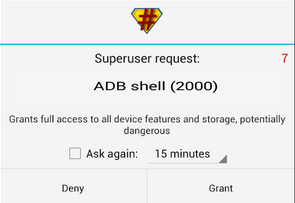 4,Select the android smartphone drive, then click the "NEXT" button.